AJ Submission Guidelines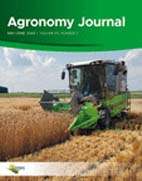 Agronomy Journal
JCR Impact factor: 2.1
ISSN:0002-1962 E-ISSN:1435-0645
Publication Type: Special Section in the Regular Issue
Indexed by: ISI Current Contents and SCI Expanded, PubMed, SCOPUS, Agricola, CAB Abstracts, and other major indexes
Videos of Preparation Instructions
Here below are instructions for Agronomy Journal for your preparation reference (Click the title to view related videos)
1.
Instructions from Editor-in-Chief
2.
Article Constructions (Parts of the research manuscript and writing order)
3.
Style and Approach (How to say what you want to say and Inference)
4.
Article Submission (Items you should consider and Cover Letter)
5.
Tips, Insights 'Little Things' (Making it easier during and after submission)
Preparation, Submission and Revision Instructions
1.Scope
After critical review and approval by the editorial board, Agronomy Journal (AJ) publishes articles reporting research findings in soil–plant relationships; crop science; soil science; biometry; crop, soil, pasture, and range management; crop, forage, and pasture production and utilization; turfgrass; agroclimatology; agronomic models; integrated pest management; integrated agricultural systems; and various aspects of entomology, weed science, animal science, plant pathology, and agricultural economics as applied to production agriculture.
Notes are published about apparatus, observations, and experimental techniques. Observations usually are limited to studies and reports of unrepeatable phenomena or other unique circumstances. Review and interpretation papers are also published, subject to standard review. Contributions to the Forum section deal with current agronomic issues and questions in brief, thought-provoking form. Such papers are reviewed by the Editor in consultation with the editorial board.
2.Templates
3.Submission Instructions
Online Submission Instructions
4.Peer Review and Revision
All manuscripts submitted to AJ undergo double-blind peer review. Papers are assigned to a technical editor, who will assign an associate editor to solicit at least two reviews. After evaluating the completed reviews, the associate editor will recommend a decision to the technical editor. Authors will be prompted to provide a list of potential reviewers. These reviewers must not have a conflict of interest involving the authors or paper, and the editorial board has the right to not use any reviewers suggested by authors. See the editorial policy information page for additional information on review policy.
All revisions to the manuscript during the review process will be made by the author only, and revisions will be given the same manuscript number, with an R number on the end (e.g., AJ-2019-02-0024-A.R1). Each revision has the opportunity for another round of review — the manuscript status "awaiting reviewer selection" is automatic and does not indicate a resubmission. Authors have 30 days to review and return their manuscript following reviewer and associate editor comments. Manuscripts may be released if revisions are not received, and the paper will have to be submitted as a new manuscript. Soon after submission, the editorial board will decide whether send the paper through review. For papers that are reviewed, the average time from submission to final decision is about 60 days. It is common for accepted papers go through at least one revision.
Plagiarism Screening
Papers submitted to ASA, CSSA, SSSA journals are screened for plagiarism before being sent for review. If there appears to be major repetition from other sources, the editor will evaluate the duplication and take appropriate action as warranted.
Language Editing
Particularly if English is not your first language, you may wish to have your paper edited for language. This is not a mandatory step but may help to ensure that the scientific content of your paper is fully understood by journal editors and reviewers. Language editing does not guarantee that your manuscript will be accepted for publication. Authors are liable for all costs associated with English language editing.