General Info
The climate of Hungary
The climate of Hungary can be described as a typical European continental influenced climate with warm, dry summers and fairly cold winters. There are four seasons – winter: December-January-February, spring: March-April-May, summer: June-July-August and autumn: September-October-November.
July is the warmest month with an average temperature of 22°C. Annual precipitation is about 400-600 mm in the lowland areas, but higher in the mountainous regions. Generally, the weather is best in May-September, when days are warm and the nights are cool.
Currency
The forint has been the official currency in Hungary since August 1946. Banknotes come in denominations of 500, 1000, 2000, 5000, 10000 and 20000. Six different coins are in use: 5, 10, 20, 50, 100 and 200 forint coins. Since January 1997, the forint has been fully convertible, making life easier for visitors to Hungary. Currency exchange services are available at banks and ATMs (on campus or in the city centre), but the best way to change currencies is to find bureaux de change (exchange kiosks) advertising 'no commission'. Most banks do not charge any commission, so you will get forints at the daily exchange rate. Although the euro will probably not be adopted in Hungary for a while, in certain places you will see prices quoted in euros for comparison. Credit cards are widely accepted. If in doubt, ask the shop assistant or look for symbols and tags on shop windows. The most popular credit cards are Visa, Mastercard and American Express.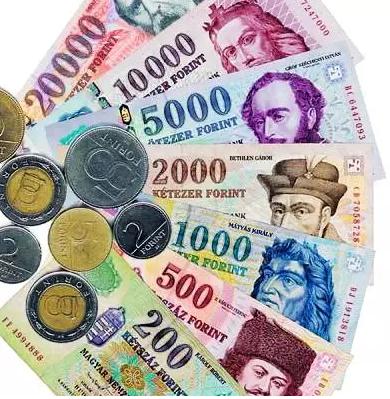 Shopping
Shops are generally open from 9 or 10 am to 6 pm. Smaller shops may close for a lunch break. Shopping centres are open until later (7 or 8 pm). There are two kinds of 24-hour shop: small convenience stores in the city centre and the Tesco hypermarket. Supermarkets are cheaper than inner-city stores and regularly offer special deals to attract consumers. Stores of the following chains can be found in most cities in Hungary: Tesco, Spar, Lidl and Aldi.
Hungarian Cuisine
Although vegetables and vegetable dishes are by no means absent from the Hungarian table, typical Magyar food is heavy on dairy, cheese and meats, similar to that of other Eastern European countries. Chicken, pork and beef are very common, while turkey, duck, lamb, fish and game meats are also eaten but not as frequently (mostly on special occasions). Hungary is also famous for the high quality and relatively inexpensive salamis and sausages it produces primarily from pork, but also poultry, beef, etc. Hungary is also well known for the wide variety of desserts, pastries and cakes to be found in bakeries, patisseries, cafés and, best of all, in the Hungarian home.
Typical dishes to try while you are in Hungary:
Gulyásleves
(goulash soup)
Húsleves
(meat soup)
Lángos (deep-fried bread with sour cream and cheese for topping)
Halászlé
(fish soup)
Gulyás
(goulash)
Rántott Sajt
(Breaded and fried cheese)
Rakott Krumpli (potato casserole with bacon, eggs, and sausages)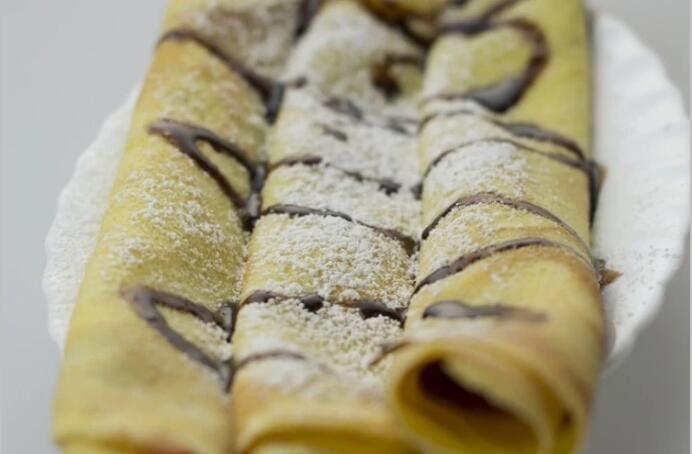 Palacsinta (Hungarian version of crepes or pancakes)
Túrós csusza (pasta with cottage cheese)
Töltött káposzta (stuffed cabbage)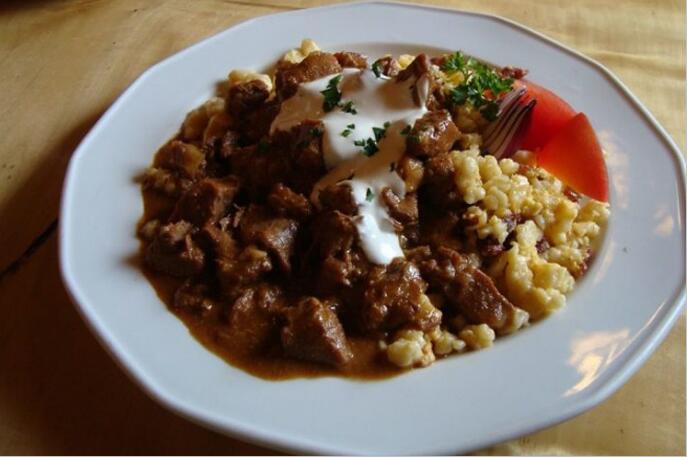 Pörkölt (a thick stew made from different kinds of meat)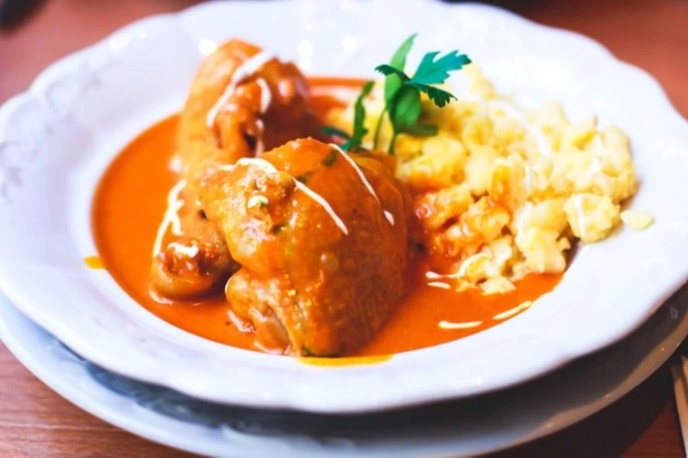 Chicken Paprika
(Paprikash)
Meggyleves (sour cherry soup)
Somlói galuska
Kürtőskalács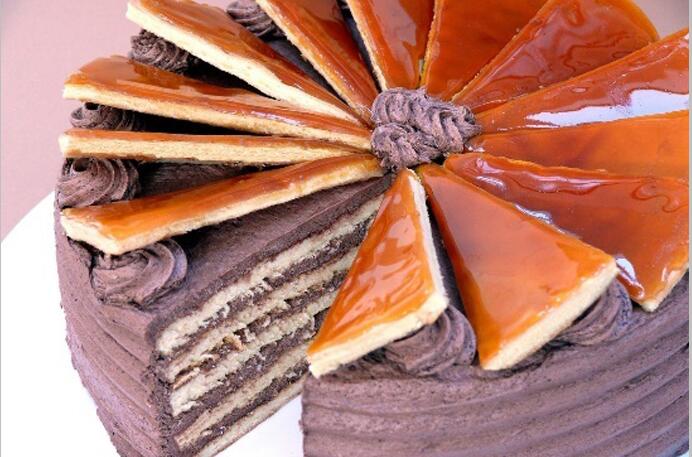 Dobostorta
Kakaos Csiga
Rétes